Finding Beauregard A Home
WWW.KATLOVER.COM
HOW HE GOT HERE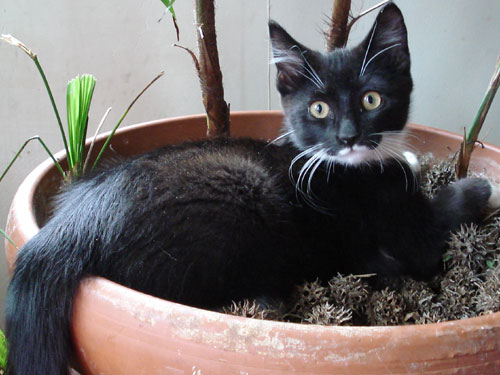 It's not his fault. We should've been better parents. But we were busy tending to a house full of cats – the original one (the one we adopted intentionally, who came with his own set of problems) as well as the later arrivals, the ones who adopted us.
He showed up one rainy night in 2009. On our trek home from feeding the satellite colony, a tiny cat-shaped shadow stalked us. Froze. Scampered away. Over the next few nights, he toyed with us, flirting.
We were familiar with all the neighborhood cats (both pet and free-ranging), and this guy was definitely new. He didn't turn down a free meal, but mostly he was tantalized by us. He did not know much about surviving outside.
For one thing, he lacked street smarts. Dashing in and out of the usually busy thoroughfare, he didn't recognize the curbstone as a border marker, a symbolic but critical barrier to city dwellers. He was rambunctious, handsome, and painfully cute. It was after midnight, and it was wet.
So of course we brought him in, even though we were already one or two cats over the limit (our limit, that is, which had turned out to be rather elastic). We had to trap the little demon to do it, which told us whoever was responsible for him had been irresponsible – or worse. Hoping it would turn out to be true, we called him Beauregard.