Finding Beauregard A Home
WWW.KATLOVER.COM
HOW HE GREW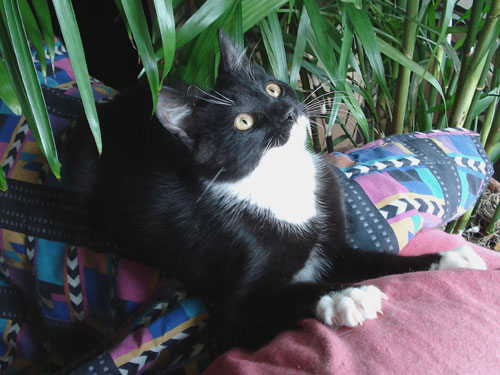 Though the cats in Beauregard's new tribe weren't eager to have a kitten in their midst, they tolerated him. At first they considered him merely uncouth and did their best to teach him cat manners – with limited success.
Mostly mirroring their attitudes, he ignored the cats who ignored him, challenged the cats who challenged him. Trouble is, he matured fast, and seemed destined to be a large kitty. Before long he was bigger than all the females – bigger, in fact, than everyone except Cappy, the last arrival before Beau.
Beauregard's eclectic appetite astonished us. He eagerly sampled every type of cuisine. Beau's dairy radar led him to any dish with even a hint of cheese (living up to that milk mustache). Enchiladas, chicken pot pies, baked goods – all compelled immediate attention.
Even worse, Beau was intelligent – and extremely observant. Substituting incisors for human fingers, he would march about with plastic containers clamped between his jaws. After a short parade, he'd retire to his lair and wrestle the lids off. He got quite annoyed when we snatched away the rest his "kill" and doled it out equitably.
And when Beauregard got annoyed, he'd sometimes throw tantrums.